Store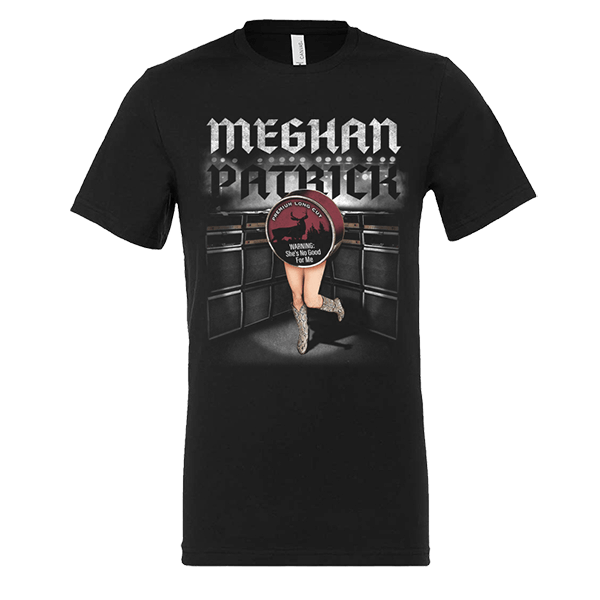 Dip T-Shirt
Greatest Show On Dirt EP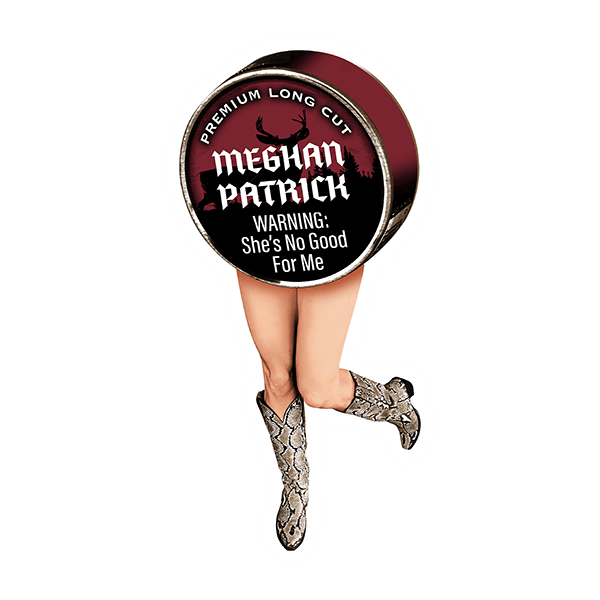 Dip Sticker
View All
About
Since making her debut with 2016's multi-award-winning Grace & Grit, Meghan Patrick has embodied the kind of unbridled truth-telling that leaves listeners feeling undeniably seen and understood. A back-to-back CCMA Female Artist of the Year whose accolades also include 18 CMAOntario Awards, the Nashville-based artist doubled down on that soul-baring specificity in the making of her latest project, The Greatest Show On Dirt. Over the course of the EP's six intimately detailed tracks, the rural-Ontario-born singer/songwriter sets her storytelling to a high-energy but expansive sound that stretches beyond the boundaries of country—a move befitting of a musician whose background includes co-founding an all-girl band at age 13, studying opera and jazz, fronting a 10-piece funk act that once opened for Aretha Franklin, and touring extensively as part of a bluegrass group. Anchored in the powerful vocal work she's brought to the stage as support for legends like Dwight Yoakam and top artists including Keith Urban, Old Dominion, Kip Moore, Brothers Osborne and more, the result is a body of work that captures the nuances of her emotional experience with equal parts boldness, humor, and wildly colorful originality.
"It's always been important for me to be completely honest in my music, but I think this is the first time I've had the bravery that it takes to get to place where you can be 100 percent open about every aspect of yourself—the good and the bad, and not just the parts that you hear about in songs on the radio," says Patrick. "I want to make music that has real longevity, and the only way to do that is to peel back the layers and be unapologetically yourself."
Produced by Joey Hyde (Jake Owen, The Band CAMINO) and Aaron Eshuis (Rascal Flatts, Cole Swindell), The Greatest Show On Dirt kicks off with lead single "She's No Good For Me"—a smoldering and fearlessly self-aware track that Patrick considers a major breakthrough in making her way toward the EP's unguarded self-expression. "That song was definitely new territory as far as acknowledging some of the not-so-great moments in my past," she says. "It came from looking back on a time when I was drinking too much and making bad decisions for my health and in my relationships, but I wanted to make the point that the first step to healing is recognizing that you need to heal. I'd never heard that exact idea in a song before, and it felt like a catalyst for digging deeper in my songwriting."
All throughout The Greatest Show On Dirt, Patrick lets her down-to-earth personality and whip-smart point of view shine to full effect, bringing a dazzling subjectivity to songs like "Ours" (a fiery reflection on "watching your ex hit copy-and-paste on your relationship with whoever they date next") and "Truck Breaks Down" (a gorgeously aching account of "knowing someone's about to end things, and thinking of everything that could potentially stop them from coming to break your heart"). On the EP's title track, meanwhile, Patrick matches her gritty authenticity with a starry-eyed narrative that's cinematic in detail. "There's plenty of songs about those breakups that ruin your life, so I wanted to write a breakup song that's more of a nostalgic throwback to a summer romance—something that brings you back to this little moment in time when everything felt right," she says.
The most darkly charged moment on The Greatest Show On Dirt, "Red Roses & Red Flags" documents the demise of a toxic relationship. With its hypnotic guitar tones, brooding rhythms, and frenetic banjo runs (courtesy of Ilya Toshinskiy, a Russian musician who's also worked with Tim McGraw and Kacey Musgraves), the haunting yet glorious track finds Patrick's voice taking on a thrilling intensity as she delivers one brilliantly scathing line after another (e.g., "You'll be back in the morning/After you've paid the florist/With whatever ain't on the bar tab"). "It's the story of a scenario I've been in time and time again, where a guy screws up and thinks it'll fix everything if he goes out and buys you flowers," she says. "He's talking about how he's gonna change and be a better man and you're just thinking, 'It's done, I'm over it. I'm already halfway out the door.'"
Naming John Prine, Neil Young, and Waylon Jennings among her longtime inspirations, Patrick first started honing her distinct narrative voice as a kid in the small town of Bowmanville, then took up guitar after graduating from high school. During her time at McGill University, she built up her chops by busking in the Montreal subways, eventually dropping out of school to tour with her bluegrass band. Within a year of striking out as a solo artist, Patrick landed a deal with a major label and soon teamed up with the likes of Vince Gill to record the widely acclaimed Grace & Grit. But while the coming years brought a number of triumphs—including scoring her first #1 single with "Walls Come Down" (from her 2018 sophomore LP) and winning a Juno Award for her 2019 EP Wild As Me—Patrick later endured a period of intense upheaval compounded by the chaos of the pandemic. "It was a culmination of a lot of different things that shook my world, made me doubt myself and made me feel like I wasn't being heard by the people around me," says Patrick, who's now signed to Riser House Records. "But at the same time, that's what pushed me to really lead the charge and create what I want instead of trying to fit into other people's expectations—and because of all that, I ended up with some of the best songs I've ever written."
Now at work on her first full-length since 2021's Heart on My Glass, Patrick has found that strengthening her creative vision has reaffirmed her sense of purpose as an artist. "After I put out 'She's No Good For Me,' I had people reach out and tell me things like, 'I've been sober for a while and I was really struggling this weekend, but then I heard your song and it put me in a good place,'" she says. "So many of my songs come from the moments where I don't feel strong, but somehow sharing those moments ends up helping people. It just shows that the more human and genuine I am in my music, the more it might help people to feel more empowered in their own lives."
Join Meghan's Wild Ones
Join
Sign-up for the Mailing List
STAY UP TO DATE ON NEWS, RELEASES, AND MORE!
Text Meghan at (615) 819-4877 to join her text list